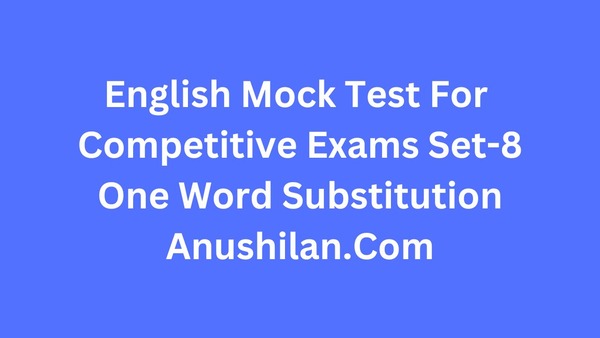 English Mock Test For Competitive Exams Set 8: One Word Substitution(Question Answer)|One Word Substitution Practice Set (Quiz)
English Mock Test For Competitive Exams Set 8: One Word Substitution|One Word Substitution Practice Set(Quiz)
Q1.The power of reading the thoughts of others
Psychopathy
Telecommmunication
Psychology
Telepathy
<button class="acc">Show Answer</button>
<div class="pnl">
<p>Telepathy</p>
</div>
Q2. Place where bird are kept
Zoo
Apiary
Armoury
Aviary
Q3. A man of odd habits
Eccentric
Cynical
Introvert
Moddy
Q4. Constant Effort to achive something
Perseverance
Attempt
Enthusiasm
Vigour
Q5. A short stay at a place
Halat
Interlude
Intermission
Sojourn
Q6. A post without remuneration.
Voluntary
Sinecure
Honoary
Involuntary
Q7. An endocrinologist deals with
Teeth
Glands
Epidemics
Heart
Q8. An ophthalmologist deals with
Q9. An Epicurean is one who
Endures
Suffers
Enjoys pleasure
Loves
Q10. Cutting for stone in the bladder
Dichotomy
Tubectomy
Vasectomy
Lithotomy
Q11. A house for storing grains.
Cellar
Store
Godown
Granary
Q12. Person who loves books
Bibliophobe
Bibliographer
Bibliophile
Bibliophagist
Q13. Hand and Glove' Means
Arrogance
Enemy
Maintain a distance
Intimate terms
Q14. A hater of knowledge and learning.
Bibliophile
Philologist
Misogynist
Misologist
Q15. A person not sure of the existence of God.
Theist
Atheist
Agnostic
Cynic
Q16. Anything written in a letter afterit is signed
Posterity
Postdiction
Postscript
Corrigendum
Q17. To examine one's own thoughts and feelings
Meditation
Retrospection
Reflection
Introspection
Q18. Commencement of words with the same letter
Pun
Alliteration
Transferred epithet
Oxymoron
Q19. One who abandon his religious faith.
Apostate
Prostate
Profane
Agnostic
Q20. A sad song
Q21. A person who loves everybody
Cosmopolitan
Fratricide
Altruistic
Aristocrat
Q22. One who travels from place to place
Itinerant
Mendicant
Tramp
Journeyman
Q23. One who entertains his guest well
Inhospitable
Incognito
Parasitic
Hospitable
Q24. Of unknown authorship
Incognito
Pseudo
Anonymous
Unidentified
Q25. That which cannot be attacked or taken by force
Pregnable
Impregnable
Autopay
Anarchy
Q26. The mistake of placing something in the wrong period of time:
Misdate
Anachronism
Misplacement
Prolepsis
Q27. The study of ancient societies
Anthropology
Archaeology
History
Ethnology
Q28. Leave or remove from a place considered dangerous
Evade
Evacuate
Avoid
Exterminate
Q29. A person who knows many foreign language.
Linguist
Grammarian
Polyglot
Bilingual
Q30. One who is not easily pleased by anything.
Maiden
Mediaeval
Precarious
Fastidious
Q31. A person interested in collecting ,studying and selling old things.
Antiquarian
Junk-dealer
Crank
Archealogist
Q32. Tending to move away from the centre of axis.
Centrifugal
Centripetal
Axiomatic
Awry
Q33. One who fond of fighting.
Bellicose
Aggressive
Belligerent
Militant
Q34. One who take the dark side of a thing.
Pessimist
Optimist
Insolvent
None of the above
Q35. One who totally abstains from alcoholic liquor.
Amateur
Teetotaler
Atheist
None of the above
Q36. A person who lends money at a very high rate of Interest
Unanimous
Usurer
Cartoonist
None of the above
Q37. A promice given by a prisoner that he will not run away.
Verbatim
Illegal
Parole
Malleable
Q38. Take away or alter the natural qualities of
Authentic
Denature
Limpid
Unadulterated
Q39. An old unmarried woman
Sniper
Masochist
Spinster
Septuagenarian
Q40.One who is honourably discharged from service
Truant
Belligerent
Mercenary
Emeritus
Q41. The study of insects
Etymology
Entomology
Zoology
Anthropology
Q42. A person who is blamed for the wrong doings of others
Phlegmatic
Bursar
Scapegoat
Captor
Q43. A remedy for all diseases
Stoic
Marvel
Panacea
Recompense
Q44. A handwriting by which cannot be easily read
Illegible
Legible
Lucid
Edible
Q45. One who cannot be changed or reformed
Invulnerable
Hardened
Incurable
Incorrigible
Q46. The killing of one man by another man
Suicide
Homicide
Fillicide
Insecticide
Q47. The absence of government
Misrule
Unruly
Anarchy
Chaos
Q48. A person who is skilled in horsemanship
Cavalier
Equestrian
Jockey
Cavalryman
Q49. A doctor who specializes in diseases of the nose
Rhinology
Otologist
Pathologist
Podiatrist
Q50. That which cannot be attacked or taken by force
Pregnable
Impregnable
Autopay
Anarchy
Important Links
Click Here to Attempt Mock Tests of All Chapters of English
ধন্যবাদ । আমাদের এই POST টি, আপনাদের পছন্দ হলে শেয়ার করার অনুরোধ রইল । এইরকম আরও সুন্দর সুন্দর POST পাওয়ার জন্য আমাদের FACEBOOK PAGE টি LIKE করুন এবং টেলিগ্রাম চ্যানেল জয়েন করুন ।এই মক টেস্টের সম্বন্ধে আপনাদের কোনো মতামত থাকলে নীচে কমেন্টের মাধ্যমে জানান ।