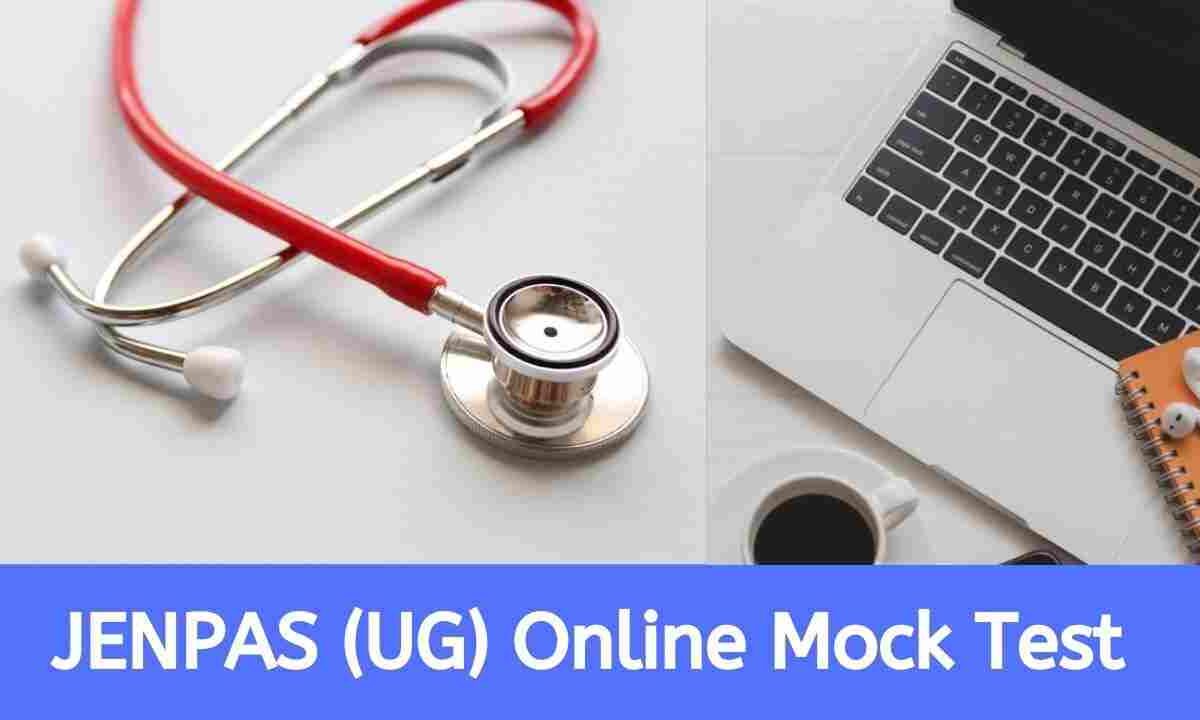 JENPAS UG Online Mock Test: Candidates who are applying for West Bengal Jenpas (UG) Exam 2023 and searching for JENPAS Online Mock Test Series, this is the right place for them. Here in this post, we provide JENPAS UG Online Mock Test in Bengali (2023). These Mock Tests are completely based on the latest JENPAS(UG) syllabus. This Post will help you to know the Question Pattern,Syllabus,Important MCQ Question Answer, Previous Year Question of JENPAS Exam.
MCQ Question-Answer of these Mock Tests can be considered as a suggestion of the JENPAS(UG) Exam 2023. It is obvious that this mock test will boost the confidence of the candidates a lot. If you like this mock test series and find it useful then there is an appeal to share this post.
For admission in various Colleges/ Institutes in the State of West Bengal into the following Undergraduate Courses. B.Sc. Nursing (Bachelor of Nursing), B.H.A. (Bachelor in Hospital Administration) ,Etc it is very important to rank well in JENPAS(UG) exam, in that case this JENPAS UG Online Mock Test in Bengali (2023) is The Key To Success.
JENPAS UG Online Mock Test Links : Paper-1
JENPAS UG Mock Test Set-1 In Bengali (Full Syllabus Test)
Biology Mock Test
Physics Mock Test
Chemistry Mock Test
Logical Reasoning Mock Test
English Mock Test
Paper-2 (Only For BHA)
Physical Science
পরীক্ষাগার ও রাসায়নিক শিল্পে অজৈব রসায়ন
Mathematics
English
GK
More important Mock Tests will be uploaded here soon.
Advantages of JENPAS UG Online Mock Test
1. Our WBJEE JENPAS UG Online Mock Test Links are available 24*7 and can be accessed from anywhere.These Mock tests are regularly updated and cover questions from all relevant areas.
2. Experienced and qualified teacher made this JENPAS UG Online Mock Test Series that's why The Questions of this test is very important for WBJEE JENPAS 2023.These Mock Tests Will Help The Candidates To Know Time Management, Question Patterns, Marks Distribution, His /Her Week Point and strong point etc.
3. JENPAS UG Online Mock Test is based on WBJEE JENPAS-2023 Syllabus. Each and every question of these Mock Tests are very important.
How to Prepare for WBJEE JENPAS UG Exam

Examinees need to work hard to get good results and prepare smartly to get a brilliant rank. Here are some important preparation tips for WBJEE JENPAS 2023 Exam.
1. Every candidate should first check the examination syllabus and Question pattern thoroughly.
2. After reading each subject well, the candidates should solve last year's question of that subject.
3. Before starting preparation candidates are requested to check the question pattern, Previous year paper, Marks Distribution.
4. The more mock tests participants attempt, the better their results will be. Practice all-important Mock Tests provided here in this post. Here examinees will get the WBJEE JENPAS UG Online Mock Test for Paper 1 For B.Sc Nursing and Paper 2 For BHA.
JENPAS UG Exam Syllabus:
Paper-1 (for all courses other than BHA) will be based on the 11th and 12th standard syllabi and curriculum of the recognized Board/Councils in India (see list at the website).
Paper-2 (for BHA) The content of Physical Science and Mathematics will be based on the 10th standard syllabi of West Bengal Board of Secondary Education and other equivalent and recognized Boards/Councils in India and the content of General Knowledge, English and Logical reasoning will be equivalent to 12th standard curriculum.
JENPAS UG Exam Question Pattern.
The test will consist of two papers namely, Paper-I and Paper-II.
Paper-II is for admission in BHA course only and Paper-I is for other courses.
During application, a candidate can apply for only Paper-I or only Paper-II or for both.
Paper-I will have the following structure.
Subject
Category-1
Each Q carries 1 mark
(-ve marks = -1/4)
Category-2
Each Q carries 2 marks
(No -ve marks)
Total Number of Questions
Total Marks
No. of Questions
No. of Questions
Physics
15
5
20
25
Chemistry
15
5
20
25
Biology
15
5
20
25
English
20
–
20
20
Logical reasoning
20
–
20
20
Total
100
115
Paper-2 will have the following structure.
Subject
Category-1
Each Q carries 1 mark
(-ve marks = -1/4)
Category-2
Each Q carries 2 marks
(No -ve marks)
Total Number of Questions
Total Marks
No. of Questions
No. of Questions
Physical Science
25
5
30
35
Mathematics
10
5
15
20
General knowledge
10
5
15
20
English
20
20
20
Logical reasoning
20
20
20
Total
100
115
JENPAS UG Online Mock Test in Bengali –এর উপকারিতাঃ
এই মক টেস্টগুলো সম্পূর্ণ নতুন এবং রিভাইসড সিলেবাসের ওপর তৈরি করা হয়েছে । এই মক টেস্টগুলোতে পরীক্ষার্থীরা যখন খুশি সম্পূর্ণ বিনামূল্যে অংশগ্রহণ করতে পারবে । অভিজ্ঞ শিক্ষক শিক্ষিকা দ্বারা তৈরি করার ফলে এই মক টেস্টের প্রশ্নগুলো WBJEE JENPAS পরীক্ষার জন্য অত্যন্ত গুরুত্বপূর্ণ ।এই মক টেস্টগুলিতে অংশগ্রহণ করলে পরীক্ষার্থীরা প্রশ্নের ধরণ বুঝতে পারবে এবং তার সাথে সময়ের মধ্যে পরীক্ষা শেষ করার ক্ষমতাও বাড়াতে পারবে ।বায়োলজি বা জীববিদ্যা ,পদার্থবিদ্যা, রসায়ন ,জীবন বিজ্ঞান, ভৌতবিজ্ঞান , ইংরাজি, রিজনিং, অঙ্ক প্রভৃতি বিষয়ের অধ্যায় ভিত্তিক অনেক MCQ প্রশ্ন-উত্তর থাকে এর ফলে MCQ প্রশ্ন –উত্তর মুখস্ত করতে গিয়ে দেখা যায় অনেকবার পড়ার পরেও MCQ প্রশ্ন–উত্তর মনে রাখতে অসুবিধা হয় । ছাত্রছাত্রীরা যদি বারবার এই মক টেস্টে অংশগ্রহণ করে তাহলে তাদের MCQ প্রশ্ন – উত্তর মনে রাখতে আর অসুবিধা হবে না । বলা বাহুল্য পরীক্ষার আগের মহুর্তে এই WBJEE JENPAS UG Online Mock Test সিরিজ অত্যন্ত উপযোগী হবে ছাত্রছাত্রীদের কাছে ।
Important Links
ধন্যবাদ । আমাদের এই POST টি, আপনাদের পছন্দ হলে Share করার অনুরোধ রইল । এইরকম আরও সুন্দর সুন্দর POST পাওয়ার জন্য আমাদের FACEBOOK PAGE টি LIKE করুন।এই JENPAS UG Online Mock Test -এর ব্যাপারে আপনাদের কোনো মতামত থাকলে নীচে কমেন্টের মাধ্যমে জানান ।